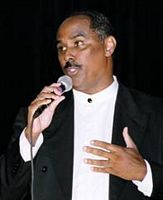 Want a sample?
Phil's calendar: Japan - July, 2010. Jazz Informance/Not Just Jazz - August 28, 2010.
If you croon to Switch hits "There'll Never Be," "I Call Your Name," seen "Shrek""Prince of Egypt" "The Little Mermaid" "Father of the Bride - 2" "My Best Friend's Wedding (he's the wedding singer)"
Then you've heard/seen Switch co-lead vocalist, bassist, keyboardist, percussionist, song writer, youngest brother of James, Phillip Ingram.
Jeff Lorber, Richard Elliott, Anri, & Matsui in your music library? Check labels - lead vocalist credits - Phillip Ingram.
Luther, Quincy, Barbra, Pat Boone, Iglesias, Kenny G, Anita, Celine, Bette, Smokey, Gladys, James Ingram, Patti Austin, Denise Williams, Neville, Koz, Bolton, Dionne, Alyson Williams, Phyllis, Jarreau, Kenny G, Benoit, Mathis, Billy Joel, Wayne Henderson, Sample, Lyle, Manilow, Ronnie Laws, Nancy Wilson, Wilton Felder & many others called on Phillip's rich voice to complement their music.
And where does Ingram find the time to serve as Faculty Chair & teach a cappella Harmony at California College of Music? http://www.ccmcollege.com/

Experience Phillip's energized versatility @ Jazz Informance 2010 - from R&B to Jazz.