May 9th Salazar Art Class
An exciting opportunity!
Come, experience the benefit of art - even if you don't think you're an artist!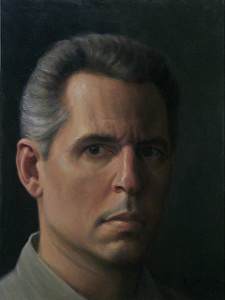 Self Portrait
Click here for new Ed Salazar Fine Art video
Saturday May 9th
4:00 pm
All Skill Levels, All Ages
Make it a generational event!
Bring a drawing - Ed Salazar will help you draw it!
Vienna Community Center
120 Cherry St., SE
Vienna, VA 22180
Ed Salazar is volunteering to conduct this art class at his own time and expense for the benefit and instruction of all the students. He has traveled over 5 hours each way in addition to the time spent on the class despite his busy schedule.
Supplies:
Beginners - Pencils: #2, #3 & one charcoal pencil.
Kneaded eraser, White Strathmore paper - 16' x 20"
Drawing clipboard - recommended but not required.
Barque Drawing Course - click here for free .pdf
Intermediate & Advanced Painters - Acrylics? Oils?
Click here for materials list.
An international artist and art historian, Salazar has spent many years studying with renown artists. He regularly lectures at the Metropolitan Museum of Art.
Please click here to RSVP. Include names, ages, skill level.
Advance donations allow us to devote more time to the class.