Canvas reproduction of original oil painting by Ed Salazar.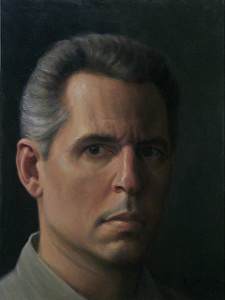 Self-Portrait
A master at portraiture
Ed Salazar ...represents artistic realism at its finest.
Salazar's gift of portrait artistry is vividly seen. His work enthralls and mesmerizes one's senses to the point of feeling that the people on his canvas are actually breathing.
Ed is expert at making even whole families or groups of people come to life. His goal is to make each subject's personality shine through with breathtaking accuracy.
"Portraiture can be the most difficult form of painting – the most exacting. It is not just a painting. It's customized to you. You must capture the person at his/her best." - Ed Salazar
Think of how amazing it would be to enhance your home or office with a reproduction of one of Salazar's original oils – a collection of miniature portraits in a UTOPIAN/paradise world setting.
click here - Salazar originals are also available
Contact Us if interested in a commissioned work by Salazar.