Become a Sponsor or Vendor at Art & Health Awareness, Inc. events!
We accept one vendor of any type for each event.
Your Business Name______________________________
Type of Business_____________________________
Your Business Website/Email Address__________________________________________
November 24th - Ronnie Laws & Walter Beasley in Concert, Special Guest - Shawn Allen
McGlohon Theater at Spirit Square, Charlotte, NC
Art & Health Awareness, Inc. will designate Exhibitor space.
These are upscale events: Exhibitors agree to dress in a manner that reflects the elegance of the evening.
Exhibitors will receive a skirted table.
Your Business web site, or email address, will be linked to www.artandhealthawareness.org for six (6) months.
If requested, Exhibitors agree to provide appropriate business license(s).
Exhibitor agrees to:
Engage only patrons who approach his/her Exhibitor space.
Refrain from displaying/wearing any political, religious, or potentially controversial attire, or accessories.
Exhibitor may not share or sublet space with other businesses.
Art & Health Awareness, Inc. makes no claim regarding the reliability of your services or products.
Please contact us if you:
You require electrical and/or telephone service at your Exhibitor's space.
Wish to offer food or beverages at your Exhibitor space.

McGlohon Theater at Spirit Square approval needed.
Bring plenty of business cards.
We look forward to working with you!
_____________________________________ Date____________
Exhibitor Name/Signature
Deborah Charity, Executive Director _____ Date_____________
Contact 757.636.2333
Art & Health Awareness, Inc.

Your Vacation is Only a Phone Call Away.
Sheree Scott 804.355.1673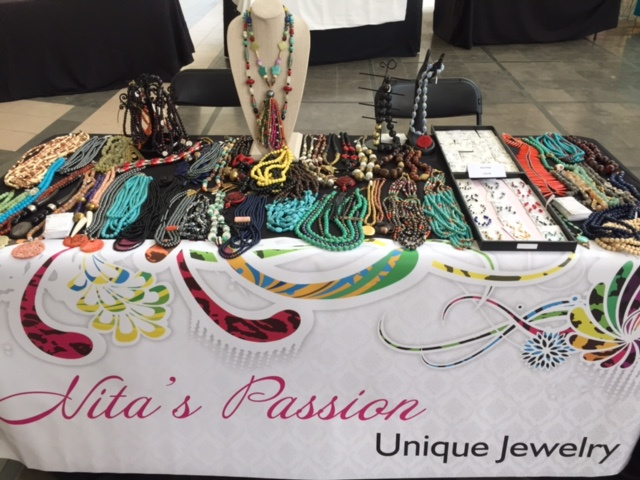 Nita's Passion Unique Jewelry - Handmade Gemstone Jewelry Contact (919) 475-3821
Art & Health Awareness Foundation, Inc. is an Amazon Smile Charitable Organization.
You shop, Amazon gives. Click here for details. https://smile.amazon.com/